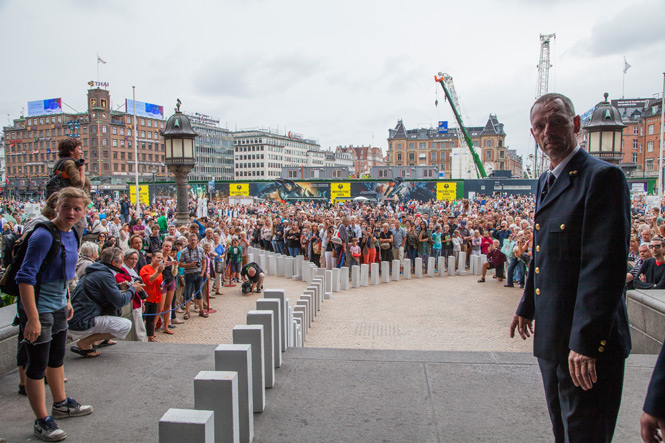 An audience of 30,000
The weather behaved, the critics were overwhelmingly positive, but most important of all, the Copenhageners were with us. Metropolis 2013 struck a chord with more than 30,000 people, who all had a dose of urban art, sowing the seeds to their experiencing the city from a new perspective and sense the many potentials Copenhagen has to offer – human, architectonic and empirical.

66 international artists brought their 12 projects to 23 selected places in Copenhagen. 114 Copenhageners participated on stage (or in the field), and more than 200 volunteers made it all possible.

In the words of Politiken:
"Just like the Metropolis dominoes almost toppled Copenhagen with a terrific chain reaction, festivals can provide tsunamis of new inspiration... The big accomplishment of the Metropolis Biennale is that since it started in 2007, it has consistently and ambitiously pushed the boundaries of what theater can be - and, indeed, what the city is and who we are, we who inhabit it."



Metropolis 2013 is arranged by Copenhagen International Theatre with primary support from the Danish Arts Council and the Municipality of Copenhagen. A number of projects have received a production and mobility aid from the IN-SITU network under the META-project, supported by the European Commission (DGEAC-Culture Programme). Individual projects are supported by Det Obelske Familiefond, Det Kongelige Teater, Goethe-Institut Dänemark, Indre By Lokaludvalg, Institut Français, La Mairie de Toulouse, Région Midi-Pyrénées, Région Rhône-Alpes, Terréal and the Flemish Authorities.
PHOTO Thomas Seest